Physicians' role in the determination of fitness to drive in patients with Parkinson's disease: systematic review of the assessment tools and a call for national guidelines
Journal of Clinical Movement Disorders
2016
3:14
Received: 26 May 2016
Accepted: 6 September 2016
Published: 4 October 2016
Abstract
Background
Physicians are usually at the forefront when the issue of driving ability is raised by Parkinson's disease (PD) patients or their family members, even though few have been formally trained in this area.
Objectives and methods
To identify relevant literature on driving assessment tools in patients with PD by performing a systematic review on this subject in order to provide background information for physicians on what types of driving assessment are available, and to delineate the role of physicians in providing fitness to drive recommendations.
Results
Of 1,490 abstracts screened, 55 articles fulfilled the selection criteria that investigated assessment of driving ability in PD patients with questionnaires, off-road testing battery, driving simulators, and driving skill tests (on-road tests and naturalistic driving test). Despite different methodology across studies, PD patients were observed to commit more driving errors than controls. Poor driving performance correlated with motor, visual, and cognitive severity. Excessive daytime somnolence was common in PD drivers and the presence of falling asleep while driving was identified to be a significant predictor of car accidents.
Conclusion
Although the evidence indicated more driving errors among PD drivers as identified by various assessment tools, the extent on how physicians should be involved in the evaluation process and make related recommendations remain unclear. Driving safety is an important public health issue in PD that needs better-defined specific legal and medical guidelines. National guidelines that establish risk assessment protocols involving multidisciplinary assessments are needed to assist physicians in making appropriate referrals for additional evaluations and recommendations when patients are deemed to be unsafe drivers.
Keywords
Parkinson's diseaseDrivingFitness to driveDriving competency
Introduction
Driving a motor vehicle is a complex task that requires cognitive functions for decision-making and multi-level integration of sensory, motor, and cortical functions. Parkinson's disease (PD) patients have impairment in both motor and cognitive ability that could lead to poor driving performance. Driving competence is, therefore, of great concern to PD patients, their families, healthcare professionals, and those with the responsibility of promoting and protecting public safety. As driving is an important activity of daily living for PD patients who rely on a vehicle for shopping and medical appointments, determination of driving competency in PD is essential and this determination requires a reliable assessment tool. Although the decision making process regarding fitness to drive is not entirely the responsibility of the physician, the issue of driving competency is often first raised by patients or family members during physician consultations. In response, physicians often feel uncomfortable providing recommendations due to a lack of established practice parameters or guidelines. Accordingly, this study set forth to conduct a review of the literature to identify the driving evaluations that are currently available and to provide practical recommendations to physicians regarding options and strategies they can discuss with PD patients when encountering the issue of determining fitness to drive.
Review
The term "human mobility" is defined as a person being able to travel where and when he or she wants [1]. Fulfillment of mobility interests and desires produces physical, psychological, and social benefits, with private driving for many representing the ultimate in private mobility [1]. For those who drive, driving represents independence, self-reliance, freedom, and self-control. In contrast, loss of the ability to drive directly affects an individual's mobility and this is associated with a number of negative consequences, including reduced outdoor activity, altered personal identity, decreased life satisfaction, increased depression, and increased dependence on family members or caregivers for assistance with transportation [2].
Driving a car is a highly complicated task that is performed in a constantly changing environment and that involves integration of perception, information processing, attention, decision-making, motor programming, executive function, and concurrent task management [
3
,
4
]. According to the driver behavior model proposed by Michon in 1985, drivers need to simultaneously conduct problem solving tasks that are divided into three levels of skill and control including: strategic (planning), tactical (maneuvering), and operational (control) levels (Fig.
1a
) [
5
]. The strategic level is defined as general route planning, while the tactical and control levels involve individual responsiveness to driving circumstances with controlled or automatic action patterns respectively. Unsafe driving is defined as operating a motor vehicle in an unsafe manner, which often results in traffic-related violations [
6
].

Conclusion
Due to the progressive nature of PD, as well as the heterogeneity of symptoms that fluctuate on a daily basis, adequate monitoring for fitness to drive is of paramount importance to ensure the safety of both PD patients and others on the road. A fitness to drive evaluation is needed to discern individuals with PD who can continue to drive safely from those who are likely to endanger themselves and others. However, the extent that physicians should be involved in the evaluation process, and make related recommendations remains unclear. Our systematic review indicates that not all the tools are available in routine clinical practice. When considered only questionnaires, structured interviews and off-road testing battery, most of the tests are part of standard clinical examination (e.g., HY, MMSE, UPDRS-motor) and can easily be tested on PD patients in clinical practice. The information obtained from these tests (e.g., cognitive status, severity of motor symptoms) provides important background information to local authorities when patients are proceeded to undergo additional tests, for example on-road tests. The situation is more challenging with driving simulators, on-road tests, and naturalistic driving because there are differences between studies involving these tools in technical characteristics, primary outcomes, and a lack of validity. These concerns probably limit the implementation of a uniform guideline on how these tests could be utilized as part of a formal assessment of driving competency in PD patients. Moreover, physicians may not be aware of the details of these tests and find it difficult to recommend them to PD patients. While on-road tests are considered by some as the reference standard, these tests are not as yet implemented or recommended by recent consensus statement and evidence-based review [22, 34, 43]. However, on-road tests are usually part of the formal assessment imposed by driving authorities. In certain situations, physicians may be able to refer patients directly for an on-road test or naturalistic driving if they are locally available and patients are deemed to be fit to undergo such tests by local authorities. Direct referral to an on-road test may be particularly useful when there are conflicting opinions between the patient and family members about their safety. We recommend that physicians consult their driving authorities for advice on additional tests if concerns are observed from structured interview and off-road tests.
Based on experiences described in related reports, it appears that physicians are at the forefront when the issue of driving ability is raised by patients or their family members (Fig.
2
). It is, therefore, necessary for physicians to have and conduct a risk assessment protocol that can evaluate if his/her patients are able to safely control and maneuver a motor vehicle. In addition to clinical assessments specific to PD, physicians should have sufficient knowledge about the functional capacity of the driver that is based on the minimum functional requirement for safe driving. In clear-cut or advanced-stage PD patients, assessment is not a problem since driving cessation is normally agreeable by all parties. Alternative modes of transportation should be explored for these patients. The problems tend to arise in those PD patients that are not clear-cut or advanced-stage in which careful evaluation and informed judgment on the part of treating physician is required. As a result, physicians are likely to make their judgment based on physical assessment rather than driving assessments, as they do not know how to undertake or participate in this kind of assessment. Given that most physicians lack basic knowledge and the formal training necessary to make a recommendation regarding which PD patients can safely operate a motor vehicle, we propose that this training be incorporated into the medical curriculum, as well as into continuing professional development programs [
36
]. The focus of the training should be on the following aspects: 1) the impact of PD for safe driving ability, 2) the basic knowledge on the legal requirement for PD patients on fitness to drive, 3) ability to treat, manage and monitor the individual's PD condition with ongoing consideration of their fitness to drive, and 4) when to inform driving authorities when fitness to drive requires notification but an individual cannot or will not notify the local authority. At the same time, there is a need for more research to develop validated tools that can be implemented by licensing authorities as objective measures to determine fitness to drive that are specific to PD. Driving safety is an important public health issue that needs better-defined legal and medical guidelines, both generally and specific to PD drivers. The release of recent consensus statements on driving with PD in Canada is a promising development that should be expanded to other regions [
34
]. In addition, local guidelines should be communicated to physicians regarding assessment and reporting of PD drivers to the appropriate local agency when patients are deemed potentially unsafe. Once a patient is reported as unsafe, a well-defined course of action should be undertaken, including formal retesting for driver recertification by licensing authorities that used validated objective assessment tools (Fig.
2
). The establishment and implementation of consistent and specific guidelines would help alleviate the conflicts experienced by physicians regarding patient confidentiality and help promote and improve public safety. PD drivers who are borderline in their driving competency should be offered driving rehabilitation or retraining that focuses on operational and tactical skills, as well as visual, cognitive, and motor functions so they can be reassessed for licensing if their skills improve [
94
].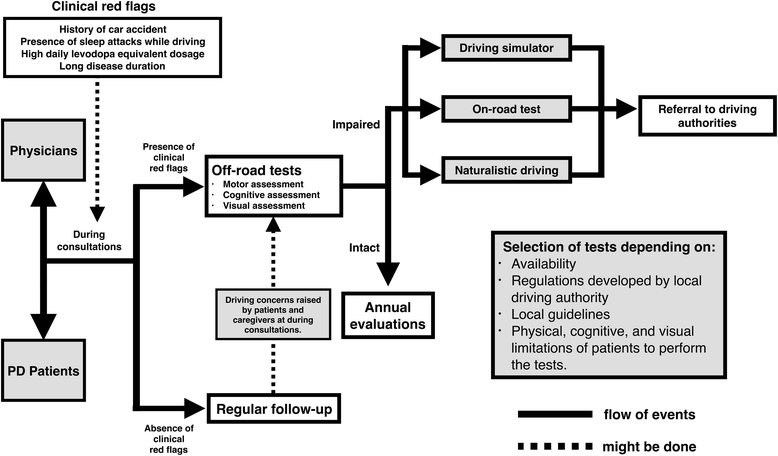 Abbreviations
CDRS:

Certified driving rehabilitation specialist
ESS:

Epworth sleepiness scale
GRS:

Global rating score
HY:

Hoehn and Yahr Stage
MMSE:

Mini-mental status examination
PD:

Parkinson's disease
SCOPA:

Scale for outcomes of Parkinson's disease
SMS:

Sum of maneuver score
UPDRS:

The unified Parkinson's disease rating scale
Declarations
Acknowledgments
The authors wish to thank Mr. Chanawat Anan and Ms. Nonglak Boonrod for their assistance in the literature search.
Funding
This study was supported by the grant from the Ratchadapiseksompoj Endowment Fund of Chulalongkorn University (RES560530136, RES560530137-HR, and RA57/119(2)), the National Research Council of Thailand (GRB-APS-13-58-30-10), the research unit grant of Chulalongkorn University, the Thailand Research Fund (TRG5880251), and the Neurological Society of Thailand Research Grant.
Availability of data and materials
The datasets supporting the conclusions of this article are included within the article and its supplementary files.
Authors' contributions
OJ conducted the review of the literature and wrote the first draft of the manuscript. RR reviewed the literature and edited the manuscript. All authors read and approved the final manuscript.
Competing interests
The authors declare that they have no competing interests.
Consent for publication
Not applicable.
Ethics approval and consent to participate
Not applicable.
Open AccessThis article is distributed under the terms of the Creative Commons Attribution 4.0 International License (http://creativecommons.org/licenses/by/4.0/), which permits unrestricted use, distribution, and reproduction in any medium, provided you give appropriate credit to the original author(s) and the source, provide a link to the Creative Commons license, and indicate if changes were made. The Creative Commons Public Domain Dedication waiver (http://creativecommons.org/publicdomain/zero/1.0/) applies to the data made available in this article, unless otherwise stated.
Authors' Affiliations
(1)
Chulalongkorn Center of Excellence for Parkinson Disease & Related Disorders, Department of Medicine, Faculty of Medicine, Chulalongkorn University and King Chulalongkorn Memorial Hospital, Thai Red Cross Society, Bangkok, Thailand
(2)
Department of Rehabilitation Medicine, Juntendo University, Tokyo, Japan